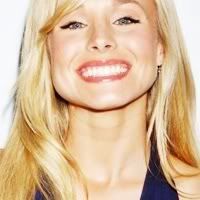 Much to my delight, Kristen Bell (Veronica Mars) will be charming T.V. audiences again!
According to Deadline, Showtime cast the actress to co-star alongside Don Cheadle for their dark comedy pilot "House of Lies." The  show focuses on Marty, (Cheadle) a self-loathing, management consultant on top of his game, who will use any means necessary to get his clients the information they want.
The actress will be a great addition, if her past sarcastic wit and delivery has anything to say about it and will take on the role of Jeannie Van Der Hooven, a razor sharp Ivy League graduate who works at Marty's firm.
Production starts this month in New York and L.A.
With Bell on the small screen again, perhaps this means WB might consider gracing the adoring "Veronica Mars" audience (myself included) with..A VERONICA MARS MOVIE! C'mon guys!