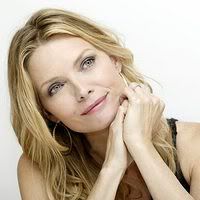 Michelle Pfeiffer's considering going goth for Director  Tim Burton!
According to THR, the class act actress is in talks  for a part  in Tim Burton's film adaptation of the 60's gothic soap opera "Dark Shadows"
The role sounds juicy too!
Meet Elizabeth Collins Stoddard : the reclusive, head honcho of the bloodsucking Collins family, who hasn't left her mansion since her husband disappeared over a decade ago.
The flick starts shooting in April and if cast,  Pfeiffer would be joining Johnny Depp, who's  set to play Barnabas Collins, a love sick , self deprecating vampire on the hunt for his lost lady.
Side note/thought:   Hollywood is getting pretty fat on fairytale and supernatural adaptations lately, most of which, I just roll my eyes at, but this little flick takes some of the cynic out of me …I'm excited for this dark,  Burton-esque ride.